Talking Hedge is a marketplace of ideas
Designed to bring alternative investment managers and investors together to talk about the complex issues, solutions, and opportunities in alternative investing. Each event is crafted to stimulate conversations and help both sides meet today's challenges. Founder, Meg Bode, has been starting conversations between investors and managers for more than two decades.
Our goal at Talking Hedge Events is to provide fresh perspectives on the alternative investment marketplace to benefit institutional investors, alternative investment managers, intermediaries, and industry solutions providers.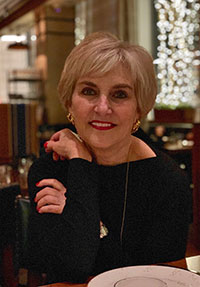 Meg Bode is a marketing communications professional with nearly 25 years of experience serving the alternative investment industry. She has produced conferences and events over her entire career and excels at convening institutional investors and fund managers for networking and education.
For 20 years, Meg was a consultant to Managed Funds Association providing media relations, member communications, and conference production. As President of the PR agency, Bode & Associates, she has worked with numerous firms to plan and execute their marketing plans, communications materials, media relations, website development, and advertising. Notably, she helped to launch National Discount Brokers (Ameritrade), the Credit Suisse Hedge Fund Index, the BRI Indexes, and the Parker FX Index.
Meg is a member and "Angel" of 100 Women in Finance and served as a Director on the Board of Worldwide Orphans Foundation for 14 years.
We look forward to hearing from you about our events and hope you will share your thoughts and ideas with us.
Meg Bode
516.869.6610
Mbode@talkinghedgeevents.com
What our participants have to say
"We found this to be one of the most useful events focused on managed futures. The content is excellent and it's well attended by allocators and managers alike."
"Rarely do I attend an event where the quality of the participants is consistently strong. The content was good; the interaction even better."
"A really terrific event; exceptional quality of people, insightful speakers, a good crowd and great networking."
"Well-run quality conferences that address relevant topics. They put experts together who are well respected in different aspects of the industry …. we come away with important takeaways and have found that their work truly adds value."